Christopher Tin: The Lost Birds Choral Score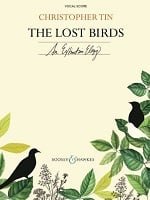 Boosey & Hawkes is proud to present the vocal score of Christopher Tin's The Lost Birds, as well as separate octavos of selected individual movements.
The 45-minute work, composed and recorded by VOCES8, is a soaring elegy for the loss of bird species due to human activity. According to Tin, the music serves as "a warning: that unless we reverse our course, the fate that befell these once soaring flocks will be a foreshadowing of our own extinction".
This release offers versatile options for mixed choirs: the original instrumentation with chorus, harp, timpani, percussion, and string orchestra, as well as intimate chamber versions for piano quintet and chorus or string quartet, harp, and chorus. The new vocal score is compatible with all versions. Alternatively, choirs can now perform individual movements from The Lost Birds with our new choral octavos, making the music available for a cappella performance.
* Vocal score is compatible with all instrumental accompaniments