Editions Musica Ferrum: Beethoven Piano Volumes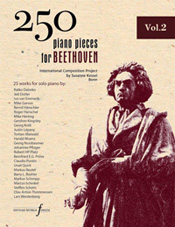 EMF is known as the publisher of the highly impressive 250 Piano Pieces for Beethoven series.
Split over ten volumes, this project presents over 260 contemporary piano works, all inspired by Beethoven, offering a new view on the works, the life and the philosophy of the composer.
Started in 2013, the 10th and final volume is due out later in 2020, and rounds off an incredible achievement in Beethoven's 250th year.