Essential Piano Technique from Penelope Roskell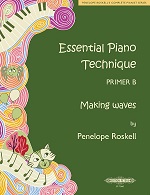 Roskell's Essential Piano Technique draws on the principles of The Complete Pianist to develop a strong foundation of healthy technique, helping young pianists to progress rapidly and confidently.
Penelope Roskell is a Professor of Piano and Piano Pedagogy at Trinity Laban Conservatoire of Music and Dance, London. She is a world-leader in the field of healthy piano playing, and Piano Adviser to the British Association for Performing Arts Medicine. Her award-winning book, The Complete Pianist, also available below, is the leading book on healthy piano technique. As a soloist she has performed in major concert halls in more than thirty countries.