15% off Grade by Grade for Piano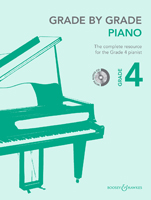 The comprehensive series continues with new resources for developing pianists, covering grades 1-5.
The Grade By Grade series draws on the rich and varied Boosey & Hawkes catalogue of classical, contemporary and educational repertoire, highlighting composers including Serge Prokofieff, Dmitri Shostakovich, Karl Jenkins, Carol Barratt and Christopher Norton, alongside arrangements of traditional music from around the world by Peter Wastall, Vera Gray and others.
Carefully selected by Iain Farrington, these practical anthologies provide the complete repertoire resource for aspiring pianists, creating the perfect package for teaching, exam preparation and performance.