György Kurtág 95th Birthday: View Bestsellers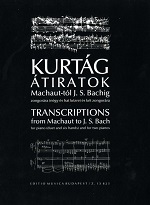 Kurtág celebrates his 95th Birthday on 19th February, explore our bestelling publications from one of the most performed contemporary composers.
Highlights include Kurtág's Signs, Games and Messages series for solo instruments and small chamber ensembles, his Transcriptions From Machaut To Bach, featuring 27 arrangments for piano and the 'Games' series of piano volumes, written for children as an exploratory tuition foundation.
"Every note he writes is essential. There is never an idea of small talk. There is never an idea of wanting to please somebody or an audience."