Hilary Hahn's 27 Encores for Violin Out Now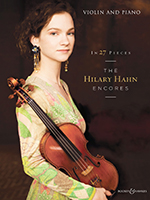 Years in preparation, In 27 Pieces: The Hilary Hahn Encores presents the 27 works from 27 composers written for the 2013 recording of the same title.
Ms. Hahn writes, "I was intrigued by the future of the genre and how composers might wish to redefine the form. When I pictured a novel set of favorite miniatures catching on – pieces crafted by today's minds – the idea of a commissioned-encores project planted itself in my head."
Two separate publications are included, the score for violin and piano and the score for violin only.