James MacMillan: Who Shall Separate Us? (SSAATTBB)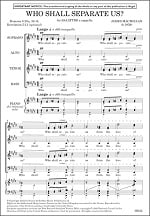 James MacMillan's choral work, Who Shall Separate Us?, has been especially commissioned by the Dean & Chapter of Westminster to be sung at Her Majesty the Queen, Elizabeth II's funeral.
First performed at Westminster Abbey on 19 September 2022 at the Funeral of Her Majesty Queen Elizabeth II by the Choirs of Westminster Abbey and His Majesty's Chapel Royal, St James's Palace conducted by James O'Donnell.