James MacMillan's Stabat Mater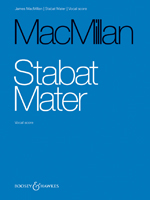 Commissioned by the Genesis Foundation, Stabat Mater was the first ever work to be performed and live-streamed at the Sistine Chapel in April 2018. The vocal score is now available.
Since its premiere, MacMillan's Stabat mater has toured in England and received performances in Scotland and the Netherlands. The composer is particularly acclaimed for his choral works which range from full-scale settings with orchestra, such as Stabat Mater, Seven Last Words from the Cross, Quickening, St John Passion, St Luke Passion and A European Requiem, through unaccompanied works sung by the world's leading chamber choirs including Miserere and Tenebrae Responsories, to simple settings sung by church choirs such as the motet O Radiant Dawn.
In his Stabat mater MacMillan followed such composers as Pergolesi, Rossini, Dvorák, Szymanowski and Poulenc in setting the stark and searing 13th-century liturgical text, which meditates on the suffering of Mary standing at the foot of the Cross.