John Adams Opera Choruses in Three Volumes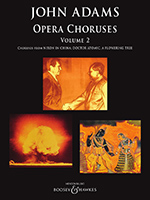 Boosey & Hawkes is pleased to present a three-volume collection of John Adams's choruses from his world-renowned operas.
Edited by conductor Grant Gershon, volumes feature choral selections from six iconic stage works with newly arranged piano accompaniment by Chitose Okashiro. Choruses are from El Nino, The Gospel According To The Other Mary, Nixon In China, Doctor Atomic, A Flowering Tree and The Death Of Klinghoffer.