Joy of Music – Discoveries from the Schott Archive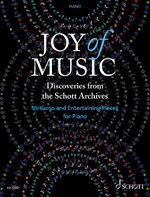 To mark the 250th anniversary of Schott Music, these treasures have been uncovered from the archives, reedited and presented in these beautiful editions.
Containing works largely from the Romantic era, arranged for cello, clarinet, flute, piano and violin, these are virtuoso pièces de résistance and encores, expressive character pieces, gems of salon music and elaborate arrangements of well-known melodies and themes. Many of the original compositions and arrangements were written by major instrumentalists of the 19th century.