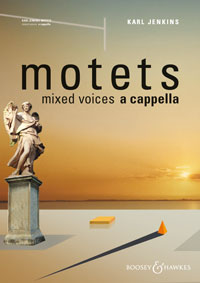 A set of enriching choral works by Karl Jenkins, available as a collection.
Motets is a set of intimate and spiritually uplifting a cappella choral works by Karl Jenkins, featuring new pieces and arrangements of a selection of movements from his most popular works, including The Armed Man, Requiem, Adiemus and The Peacemakers. Each piece is also available individually.
Although scored for mixed choir a cappella, most pieces include an optional accompaniment for piano or organ.
Motets was recorded on Deutsche Grammophon by Stephen Layton and Polyphony - listen to a sampler here.