Karl Jenkins: Piano Album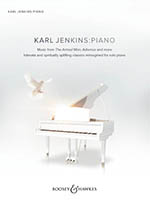 The very best of Sir Karl Jenkins' music performed by himself on the piano for the very first time.
Intimate and spiritually uplifting classics reimagined for solo piano, including Adiemus, Cantilena, Benedictus, Palladio, Ave verum, And the Mother did Weep and In paradisum.
The recorded album is also available through Decca Classics.