New Breitkopf & Härtel Titles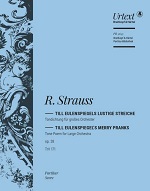 Featured composers include Richard Strauss, Jean Sibelius and Ludwig Van Beethoven.
Richard Strauss's Till Eulenspiegel's Merry Pranks Op. 28 is available as a full score with separate parts available. Beethoven's Symphony No.7 is also recently published with both full score and study score available alongside separate parts. Jean Sibelius's Finlandia-hymni from Op. 26 is also published for mixed choir.