New Breitkopf Originals: Beethoven String Quartets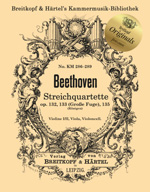 The Breitkopf Originals series opens up a fascinating view into the Breitkopf & Härtel publishing-house archives.
The focus is on its rarities and treasures, together with milestones in the history of interpretation for works of the Classical and Romantic repertoire, presented by the most prominent artists of their time.
Edited by Engelbert Röntgen, two new sets of parts have just been published with KM277 covering Op. 127, 130 and 131 and KM286 covering Op. 132, 133 (Grand Fugue) and 135.