Choral Works from Kim André Arnesen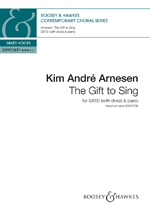 The Gift to Sing and Ubi caritas et amor are now available, both published in the Contemporary Choral Series. Each work is arranged for SATB mixed voice choir.
Kim André Arnesen
Arnesen is one of the most frequently performed composers from Norway today. He grew up in Trondheim where he was a chorister in the Nidaros Cathedral Boys' Choir, later being educated at the Music Conservatory in Trondheim. With an interest in baroque music, contemporary classical music, and popular music, Kim could have taken many roads, but choral music became his greatest passion. As a composer, he had his first performance at the age of 18 with the boys' choir. Since then he has written music that has been performed and recorded by choirs all over the world. In 2015–16, Kim was Composer-in-residence for the Denver-based choral ensemble Kantorei and Artistic Director Joel Rinsema. The residency concluded with the recording of Kim's second CD album released in early 2018 on Naxos Records. He continues to enjoy a busy international schedule of commissions.