New Christmas Carols from Carus Verlag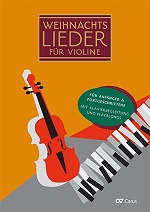 20 easy carols for winter, Advent and Christmas, arranged for clarinet, flute, saxophone, recorder, trumpet and violin across six volumes.
Advent, Christmas, and winter songs play an important role for all beginners on a melody instrument, because with these they can show off their progress on the instrument during the first year.
All the books include the printed music of the piano accompaniment. Digital playalong tracks are available for all the books.