New Edition Peters Piano Urtext Editions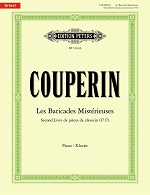 Couperin's Les Baricades Misterieuses is of one of the most famous and appealing Baroque keyboard works, this is published alongside CPE Bach's Solfeggio.
The new Urtext edition of C.P.E Bach's famous and popular Solfeggio, is edited by international C.P.E. Bach scolar Wolfram Enßlin and contains Preface and Critical Commentary in German, English and French. It's edium difficulty makes this a perfect study piece for advancing students.
Couperin's Les Baricades Misterieuses, from Edition Peters by eminent Couperin scholar Catherine Massip, provides young pianists of advancing abilities, enthusiasts and professional pianists with a beautifully engraved and reliable scholarly text.