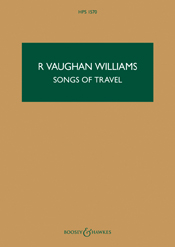 Seven study scores have recently been published by Boosey & Hawkes featuring the works of Ralph Vaughan Williams, Magnus Lindberg and James MacMillan.
Highlights include Magnus Lindberg's Feria, a 17-minute work for full orchestra with a nod to Monteverdi's Lasciatemi morire (Lament of Arianna), and Songs of Travel scored for voice and orchestra, from Ralph Vaughan Williams, the first publication of the orchestral cycle Songs of Travel, setting poems of Robert Louis Stevenson.
Four of James MacMillan's works have been added to the HPS series including Stabat Mater which made history in April as the first ever work to be performed and live-streamed at the Sistine Chapel and St Luke Passion, scored for chorus, children's choir, organ and chamber orchestra, adopting a pared-back focus on choral voices over its 75-minute span. Seeking a more spiritual, inward approach to match Luke's text, the composer eschews settings of interpolated texts as arias and the customary Evangelist and Christ soli: everything is sung by choral forces.