New Piano Preludes from Chris Norton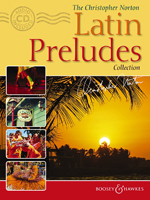 Embark on a voyage of discovery with these stunning collections of original Latin and Jazz Preludes from the creator of Microjazz.
Ideal for intermediate to advanced-level keyboard players, these pieces are perfect for the concert platform, as well as providing excellent teaching material.
An accompanying CD for each collection features newly-recorded stylish demonstration performances by Iain Farrington.