New Publication: Finzi for Saxophone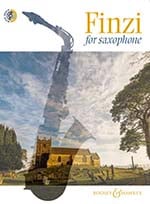 This album transcribes works originally written for other instruments or accompanied voice, giving the saxophonist the opportunity to explore this most expressive English repertoire.
It features highlights from Finzi's vocal writing, including Rollicum-rorum from Earth and air and rain (a song cycle formed of settings of Thomas Hardy's poetry), The Salutation and Wonder from Dies natalis (a song cycle with settings of texts by Thomas Traherne), Who is Silvia? and Come away, come away, death from Let us garlands bring (a set of poems by Shakespeare), Amen from Lo, the full, final sacrifice and Since we loved – the final song he wrote before his death in 1956.