New Scores from Breitkopf & Härtel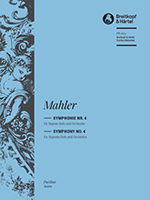 This month sees the publication of a range of critical, full and study scores featuring Mahler, Beethoven and Sibelius.
Mahler's Symphony No.4 has been published in the critical edition, edited by Christian Rudolf Riedel. All four movements from Sibelius's Lemminkäinen suite have also been released alongside Beethoven's 9th Symphony, published in time for the composer's 250th anniversary from the new Beethoven Complete Edition.