Notebook for Johann Christian Bach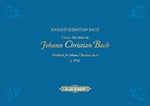 Presented as a luxury linen-bound edition with gold-embossed cover lettering, illustrations and critical commentary, this volume includes pieces not featured in previous collections.
This first Urtext edition Notebook for Bach's son Johann Christian has been reconstructed by renowned Bach scholar Christoph Wolff from copies from the estate of C.P.E. Bach. It includes pieces for keyboard by J.S. Bach, Johann Christian's initial attempts at composition (minuets and polonaises), and pieces by the older brothers Carl Philipp Emanuel and Johann Christoph Friedrich and son-in-law Johann Christoph Altnickol. The collection is completed by two sets of short preludes and fughettas from Bach's early Leipzig teaching practice, which may have come from other lost notebooks for his family, possibly the one for C.P.E. Bach.