New ABRSM Piano Exam Pieces 2021 & 2022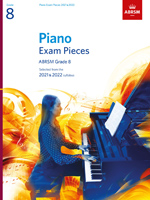 New books out now! We are excited to introduce the new piano syllabus, which publishes on 9 July 2020.
Available for Grades Initial – 8, these collections of 9 pieces per grade are available with or without a CD. Each CD contains recordings of all 30 pieces on the syllabus at each grade. Students will find repertoire choices in a wider range of styles than ever before, from classics and old favourites to new commissions.
This year, you can expect an even wider range of repertoire choices; new scales requirements; and a brand new Initial Grade assessment as well as a new series of Scale Explorer books, offering a creative resource for students learning their scales and arpeggios and cover ABRSM's new syllabus requirements (from 2021) at Grade 1-5.
The syllabus is valid from 1 January 2021 and will be supported by a wide range of new books for teachers and learners.
All books are now available