Publisher in Focus: Save 15% on Strings Attached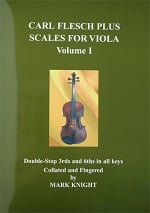 Strings Attached author Mark Knight is Professor of Violin and Viola at the Guildhall School of Music and Drama in London and the Royal Northern College of Music in Manchester.
A specialist in the historical development of string playing in the 17th and 18th centuries, he has developed an acknowledged reputation for his training of players of 'modern' instruments in the essentials of authentic performing practice.
Mark Knight's fascination with the historical contexts of string playing led him to composition of cadenzas, first for Mozart's Violin Concertos No.1 in B flat and No. 2 in D and then viola concertos by Stamitz and Hoffmeister. Invitations then followed for cadenzas for Haydn's 'Cello Concerto in C and two of Mozart's Horn Concertos. The Haydn project grew to become a full transcription of the concerto for the viola.
View the full publications list below.