Qigang Chen: Er Huang HPS & Piano Reduction Titles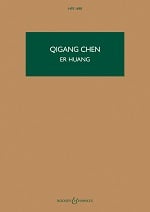 New for 2023, Chen's Er Huang has been published in the famous Hawkes Pocket Score series and as a piano reduction.
Commenting on the connection between Er Huang and its source of inspiration, the Er Huang tunes from the classical Peking Opera repertoire, he says that, 'the way I applied musical elements from Peking Opera to my own writing was not really based on musicological studies. Rather, these tunes were an essential part of my childhood in Beijing, and always intertwined with memories of my family and the society I lived in at the time.