Save 15% on The Bartók Edition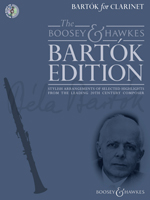 Showcasing new instrumental solo arrangements of highlights from the leading twentieth-century composer for developing musicians to learn and enjoy.
The Boosey & Hawkes Bartók Edition showcases stylish new arrangements by Hywel Davies of selected highlights from titles including For Children, Mikrokosmos, Romanian Folk Dances and Romanian Christmas Carols.
Five instrumental volumes cover Clarinet, Flute, Alto Saxophone, Trumpet and Violin with piano accompaniments and an audio CD of demonstration and backing tracks. These are perfect with publications of new arrangements of Romanian Folk Dances for the same instruments as well as Duos & Trios for Clarinet, for Flute, and for Violin.
The Definitive Bartók Edition also offers two progressive piano collections, bringing together over 50 selected highlights from the composer's extensive pedagogical catalogue. The two albums draw upon Mikrokosmos, For Children, Ten Easy Pieces, Romanian Christmas Carols and Fourteen Bagatelles.
The original and definitive edition of Mikrokosmos remains available in six volumes, with a range of language options.