Shostakovich and Football - Escape to Freedom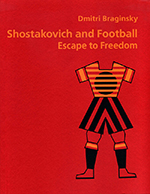 This book looks at the personality of Dmitri Shostakovich, one of the greatest composers of the 20th century, from an unusual angle - Shostakovich was an avid football fan from an early age...
...until the last days of his life. The author aimed to depict a panorama of the football and sports events and facts in the composer's biography against the broad sociocultural background of Soviet Union in the 1920s - 1970s. The manuscript is abundantly illustrated with rare photographs and many archive documents are being published for the first time. Intended for a broad range of readers, this book will be of interest to experts and lovers of musical arts and sports like.