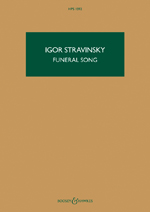 The Hawkes Pocket Score of Stravinsky's lost tribute to Rimsky-Korsakov and the first commercial recording now available to order. Save 15% when you buy both together
The music of Igor Stravinsky's Funeral Song op.5, composed by the young composer as an orchestral memorial to his teacher Nikolai Rimsky-Korsakov, disappeared after just one performance in 1909. Following its rediscovery in 2015 and world premiere in St Petersburg last December, orchestras around the world have swiftly added Funeral Song into their current seasons.


The Funeral Song score has been reconstructed from the complete set of parts by Dr. Natalia Braginskaya and the St Petersburg Conservatory in collaboration with Stravinsky's publisher, Boosey & Hawkes. This new addition to the iconic Hawkes Pocket Score range provides a unique insight into the music of the young Stravinsky, before he found international success with his ballet The Firebird.

The Hawkes Pocket Score edition of Stravinsky's Funeral Song, Op.5 is an essential addition to the collections of all musicologists, scholars, students and music lovers.