Save 15% on Boosey & Hawkes' Grade by Grade Series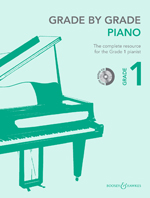 The complete brass, woodwind and piano repertoire resource at grades 1-5. New grades for Double Bass are now published.
Available for Alto Saxophone, Clarinet, Flute, Oboe, Piano, Trumpet and Double Bass.
Each volume contains:
• selected pieces & short studies, each complemented by a useful practice and performance tip
• grade-appropriate scales and arpeggios linked to the repertoire through bespoke text and exercises
• brand new sight-reading activities
• newly-commissioned aural awareness tasks
• a piano accompaniment booklet
Packaged with a CD of full performance demonstrations, piano backing tracks, and grade-appropriate aural awareness resources.