The Planets: Facsimile Edition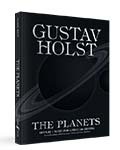 This facsimile full score edition of Gustav Holst's The Planets Opus 32 edited by Imogen Holst and Colin Matthews, is presented as a clothbound, full-colour, hardback edition with dustjacket.
With a limited number available, this is a true collector's edition.
The manuscript of the full score of The Planets reproduced in this edition represents the work as it was first performed in 1918, three years before the first published edition. Not all of the manuscript is in Holst's handwriting, since pressure of work and the painful neuritis in his arm meant that he had to rely on amanuenses to help him complete the score. There is a detailed description of the various handwritings, and two appendices help to illustrate how Holst worked with his assistants: these are Holst's autograph arrangements of 'Mars' for two pianos and of 'Neptune for organ duet. The textual collation lists all the differences between the manuscript and the printed score.