Trinity Piano Exam Pieces 2021-2023 Out Now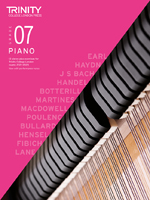 Encompassing a wide range of styles and genres at every grade and with more pieces in each book than ever before, this progressive series provides a wealth of engaging repertoire for any pianist.
Extended editions of all books are also available. They includes everything in the books along with the scales and arpeggios for the grade, an ebook of extra pieces (with performance notes) and downloadable audio for all pieces.