Trinity Rock & Pop Drum Exams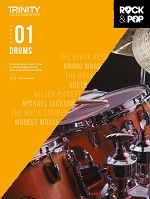 Performance is at the heart of Trinity's Rock & Pop exams — whether self-taught or taking lessons, learning for fun or heading for a career in the music industry.
You can access everything you need to prepare for the performance part of the exam in raded songbooks. Rock & Pop books are available for Initial to Grade 8 and each includes eight songs with performance hints and tips. There's also useful background information so you can explore the story behind, and techniques used in, the songs.
ALSO AVAILABLE