Trinity Singing Publications 2018-2021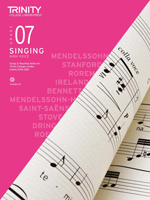 Order graded singing repertoire books (Initial-Grade 8). Each book features songs in a range of languages, from a range of international composers.
New graded songbooks feature teaching notes, translations, audio pronunciation guides and recordings of the piano accompaniments and provide singers with exciting repertoire for every level.
A new vocal exercises book, with the newly composed exercises, gives singers support for pitch and tone, rhythm, and diction.
Exam Highlights
• Refreshed repertoire of over 1,000 songs allows singers to perform in a range of styles and languages
• Revised song groupings let singers specialise in their preferred musical styles with enough choice to ensure they become a versatile performer
• A choice of four supporting tests and flexible performance options, including using backing tracks up to Grade 3 and no requirement to perform from memory, give singers the flexibility to demonstrate their individual strengths
• Specially designed technical exercises allow singers to develop vocal technique through performance