Finzi's Requiem da camera now available in new completion
(March 2014)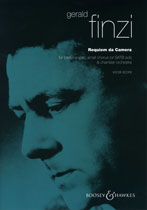 Gerald Finzi's Requiem da camera was written in memory of his composition teacher and friend, Ernest Farrar, who was killed in action in the First World War. A century on from the start of the war, this Requiem is published with a new completion.
Complementing his larger-scale choral work For St Cecilia, which is also newly published, Finzi's Requiem da camera sets English poetry in light of the Great War. The third movement incorporates Finzi's setting of Thomas Hardy's In Time of 'The Breaking of Nations'. This is framed by verses from August, 1914 by the later Poet Laureate John Masefield as well as W W Gibson's 'Lament' from Whin. The Requiem resonates with the anguish and dereliction of war alongside allusions to The Last Post, and A Shropshire Lad by George Butterworth, another casualty of the conflict.
This edition of the Requiem da camera was completed by Christian Alexander, first performed in December 2013, and is published here for the first time. It is a timely addition to the corpus of works which both address the First World War and deal with larger questions raised by death and conflict.
Other works specifically linked to the First World War include Finzi's Farewell to Arms for tenor and orchestra, Herbert Howells's Elegy for viola and string orchestra, and Karl Jenkins's setting of Laurence Binyon's poem For the Fallen, first published in 1914 by The Times after the Battle of the Marne and familiar from Remembrance Day events. Repertoire exploring the wider themes of war and peace can be explored with audio clips at www.boosey.com/warandpeace, ranging from Britten's War Requiem and Jenkins's The Armed Man: A Mass for Peace to Strauss's Metamorphosen and Reich's Different Trains.
> Further information on Work: Requiem da Camera

Boosey & Hawkes Composer News