Glanert unveils opera for children, teenagers and adults
(October 2003)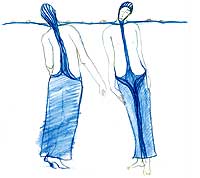 Glanert unveils new opera for children and adults
After the great success of Jest, Satire, Irony and Deeper Meaning (premiered in 2001 and receiving its sixth staging during the coming season), Detlev Glanert turns his hand to an opera that sets out to appeal to children as well as adults.



Die drei Rätsel (The Three Riddles), setting a libretto by Carlo Pasquini, received preview performances in Montepulciano in August, and its offical world public premiere takes place at the opera house in Halle on 12 October in a German translation by Erdmuthe Brand. Further performances in the coming months are on 13/14/20/26 October, 6 November and 10/16 December, and the work will continue in repertoire in Halle into the New Year with performances planned for January, March and May. Already two further productions are scheduled, by the Montpellier Opera in November and by the Bonn Theater in July 2004.

Detlev Glanert writes about the new opera: "My wish is that, with this opera, children, teenagers and adults without a professional musical training can learn something about the core of our music theatre: playfully and intelligently singing a story, dancing, and relating something about themselves by musical means. The basic subject of the Three Riddles, also known as the story of Turandot, is one of Europe's most ancient myths about the beginning of adolescence. This transition from childhood to puberty, represented in an extraordinarily epic manner, here appears in the framework of the old fairy-tale tradition, and should, through performance by children (by those, though, who are concerned by its theme), unfold its very own power and quality. Of course, the music had to be adapted to the children's technical needs, but I've tried to make sure this does not limit the work's theatrical and dramatic creative force; it had to become witty, sad, comic and exciting at once, in a musical language which, although unfamiliar, could be learned without too many difficulties. I have tried to present, from autonomous to functional pieces of music, the whole scale of operatic possibilities, also attempting to show that there can be an alternative to the 'zap' aesthetics of TV and video games."

The opera's main character, young Lasso, decides to travel into a mysterious kingdom and to become king there by asking the Princess three riddles she cannot solve. To reach his goal he has to face his mother, the envious court people, robbers and wild animals. At the end he has to say good-bye to much that was well-known in life, to safety, to former plans and also to a new friend; but thereby, Lasso has found liberty and love.

For full information on The Three Riddles, including a synopsis, please visit our opera website.
> Further information on Work: Die drei Rätsel
Costume designs by Halle Opera

Boosey & Hawkes Composer News