Höller's Master and Margarita on CD
(November 2000)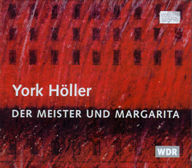 York Höller's opera Der Meister und Margarita, his own adaptation of the cult novel by Mikhail Bulgakov, is now available on disc from Col Legno (WWE 3CD 20059). The work was successfully premiered at the Paris Opera in 1989, in a production by Hans Neuenfels conducted by Lothar Zagrosek, and was awarded the Rolf Liebermann Prize for the best European opera premiered between 1987 and 1990. The opera received its German premiere at the Cologne Opera in 1991 in a new production by Friedrich Meyer-Oertel, again conducted by Lothar Zagrosek, and the new Col Legno set is drawn from a WDR recording with financial support from the Stiftung Kunst und Kultur des Landes NRW.



Der Meister und Margarita is a summatory work in Höller's output, exploring philosophical and musical issues that are central to his compositional thought. Bulgakov's novel travels freely through time in a multi-layered surrealist manner, combining pathos, irony and black humour. In 1930s Moscow, after the Master's undesirable novel about Christ and Pontius Pilate has been criticised as "irrelevant" by the Communist state and censored, he is committed to a lunatic asylum. However a mysterious witness appears, claiming to have been present when Pilate interrogated Christ. He is none other than Satan who, with his sordid retinue, soon wreaks havoc in the city, setting fire to the writers' union building and unmasking respected establishment figures as scoundrels. As in Goethe's Faust, the Devil "always wants the bad and creates the good", and he effects the Master's reunion with his beloved Margarita and their escape into orbit.

Höller's opera can be viewed in direct line of descent from Berg's works, with its complex inner structures, rich orchestral colour and passionate lyricism, while the composer's debt to his teacher Zimmermann is apparent both in his conception of musical time as a continuum and in his frequent recourse to the collaging of styles. The latter is most apparent in the Satan's Ball interlude which travels through musical history from medieval organum to rock music and complex electronic montage. Höller's mastery at fusing live and electronic sound is readily audible throughout the score, including a virtuoso depiction of Margarita's flight across the Moscow rooftops. Music from the opera is also available for concert performance in the form of a 23-minute suite, Margaritas Traum, for soprano, orchestra and tape.

York Höller visits the UK in November for performances of Gegenklänge and Tagträume at the Huddersfield Festival. Looking ahead, the premiere of his most recent work, Der ewige Tag, for chorus, brass ensemble, midi-piano and electronics, takes place in Cologne in September 2001, in celebration of the 50th anniversary of the WDR Electronic Studio.
> Further information on Work: Der Meister und Margarita
Illustration: the cover of the new Col Legno box set of Der Meister und Margarita

Boosey & Hawkes Composer News