James MacMillan: Preview of Quickening at Proms
(June 1999)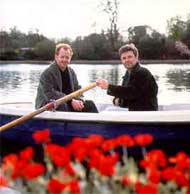 James MacMillan's new score for chorus and orchestra, Quickening, is premiered at the BBC Proms on 5 September.
The 40-minute work reunites the composer with poet Michael Symmons Roberts who provided the texts for his much-admired song-cycle Raising Sparks. It also marks a further collaboration with The Hilliard Ensemble which premiered and recorded MacMillan's …here in hiding… and was eager for a new symphonic-scale work to tour internationally. Quickening calls for three layers of choral forces: the four solo voices (ATTB) of The Hilliard Ensemble, the Boys of Westminster Cathedral, and the BBC Symphony Chorus, accompanied by the BBC Symphony Orchestra under Sir Andrew Davis. The work is a co-commission between the BBC Proms and the Philadelphia Orchestra who will give its US premiere with Davis in March 2001.
Quickening extends ideas recently explored in Raising Sparks and the final movement of Symphony: 'Vigil', centring on the miracles of birth and rebirth. The outer of the four movements, Incarnadine and Living Water are largely joyous reflections on love and new life, while the two central movements, Midwife and Poppies, travel into darker territory including the battle fields where the red flowers grow anew from the blood of war. The final movement ends with an ecstatic dance of celebration, encompassing the maternal joy of the Incarnation and the spiritual excitement of Pentecost.
MacMillan's orchestral writing in Quickening reflects the necessity of balancing the various choral forces, with a chamber organ accompanying the boys' voices, chamber scoring for the ensemble of four soloists, and full orchestra for the choral tuttis. The composer sees the score as a return to a vein which is lighter in idiom and brighter in colour than many recent works since Veni, Veni, Emmanuel, providing a contrast to the often sombre or plangent tone appropriate to those scores. The choral styles range from rapt spoken meditations, through shouts of joy, to rich multi-voice harmony.
> Further information on Work: Quickening (1998 version)
Photo: Michael Symmons Roberts and James MacMillan (Photo © Carlo Faulds)

Boosey & Hawkes Composer News