Karl Jenkins book and CDs: Still with the Music
(September 2015)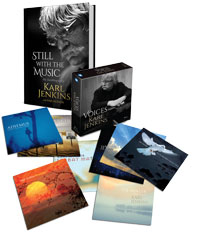 Karl Jenkins tells of his life and passion for music in a new autobiography, while Warner Classics releases a box set of his greatest works together with the premiere recording of The Healer.
<DIR=LTR align="left">Still with the Music is the new autobiography by Karl Jenkins, the composer of The Armed Man: A Mass for Peace and Adiemus, written with Sam Jackson and published by Elliott & Thompson (978-1783961375). The Welsh-born composer, recently knighted in the Queen's Birthday Honours for "services to composing and crossing musical genres", is one of the world's most popular and widely performed living composers. His Armed Man is a classical music phenomenon, with on average two performances per week, amounting to over 1800 total in 20 different countries, and a recording that has been in the UK Classical Album Chart for close to 600 weeks.

From a modest upbringing in Penclawwd, Wales, steeped in the Welsh choral tradition and the Western musical canon, Jenkins trained as a classical musician at Cardiff University and the Royal Academy of Music in London. He immersed himself in the 1960s jazz world of Ronnie Scott's, before joining the seminal prog-rock group Soft Machine. He topped the record charts with Adiemus, and went on to compose some of the most performed choral works of our age, including The Armed Man, Requiem, Stabat Mater and The Peacemakers.

To tie in with the book publication, Warner Classics is releasing a new compilation disc (2564610053) and a box set entitled Voices (2564610051). The collection contains seven of Jenkins's chart-topping discs together with the first release of his latest work for choir and ensemble, The Healer, a cantata for St Luke on the theme of healing. Recent CD releases on Deutsche Grammophon include Adiemus Colores, with a Latin theme and guest artists including tenor Rolando Villazón and guitarist Milos Karadaglic, and Motets featuring a collection of choral arrangements sung by Polyphony conducted by Stephen Layton.

Book and CDs are now on sale from our Online Shop. Please visit: www.boosey.com/StillwiththeMusic.

Jenkins returns to the Royal Albert Hall in London on 30 October for a concert including Stabat Mater and The Armed Man, with the Royal Philharmonic Orchestra and London Philharmonic Choir. Current composing projects include a new work for chorus and orchestra, commissioned by S4C to commemorate the 50th anniversary of the Aberfan Tragedy in October 1966, when a waste tip slid down a mountainside to engulf houses and a junior school, killing 144. Jenkins is also writing a motet for the Cantoria de la Merced from Córdoba in Argentina, who won the recent choral competition organised by Boosey & Hawkes.
> Further information on Work: The Healer

Boosey & Hawkes Composer News