Karl Jenkins: new piano album published alongside Decca recording
(March 2019)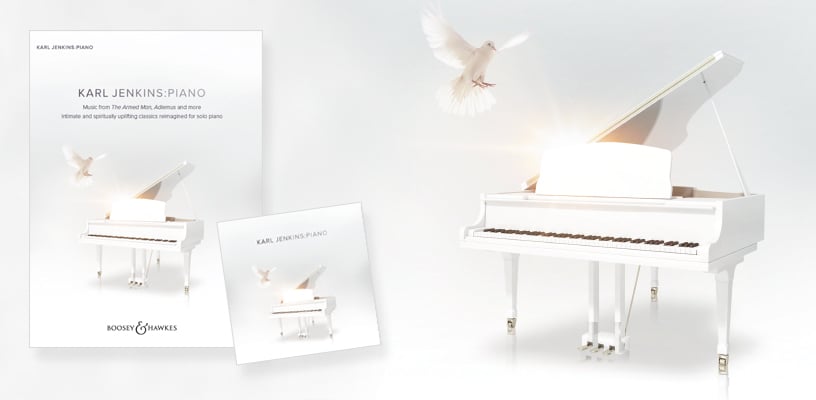 Boosey & Hawkes has published Karl Jenkins: Piano, a collection of intimate and spiritually uplifting classics reimagined for solo piano by the composer.
Pianists can now explore the 22 piano arrangements and original compositions by Karl Jenkins as heard on the new Decca recording. This new publication by Boosey & Hawkes features a selection of Jenkins classics reimagined for piano, including Adiemus, Cantilena, Benedictus, Palladio, Ave verum, And the Mother did Weep and In Paradisum. Also included are original piano solos Quirky Blue and Cancion plateada, plus White Water, specially composed for the album. Recreate for yourself the mystery, pathos and enchantment of these iconic sounds.
> Buy the new piano album
> Buy the Decca recording
> View a video trailer of the composer at the keyboard
Karl Jenkins describes how "this solo piano album represents intimate and reflective realisations of music from my oeuvre from 1995 to the present day, with the addition of three new pieces. The greater part of this sortie was for themes from my choral works: Adiemus, The Armed Man: A Mass for Peace, Requiem, Stabat Mater, Gloria and The Peacemakers, together with an introspective version of Palladio. The originals were pared down to the bare bones and almost sound as they did when conceived at the piano."
The new publication matches the music heard on the recently released Karl Jenkins: Piano (Decca 4817817), the first of a series of recordings celebrating the composer's 75th birthday year. February also brought re-releases of The Armed Man – which has enjoyed over 2500 performances since its premiere at the Millennium, and was performed over 200 times in the Armistice centenary year – together with other Jenkins classics including the top-selling Adiemus: Songs of Sanctuary, Requiem and the Very Best of Karl Jenkins. Further recordings, including Stabat Mater and The Peacemakers, will be re-released by Decca in the coming months.
In the Lenten and Passiontide periods Jenkins's Stabat Mater receives over 30 performances throughout Europe including the UK, France, Germany, the Netherlands and Sweden. Karl Jenkins is currently working on a new choral work centred on the Miserere, which will be premiered at the Royal Albert Hall in London on 13 October, as part of a major 75th birthday concert conducted by the composer.

Boosey & Hawkes Composer News