Kats-Chernin: Wild Swans ballet bows in Sydney
(June 2003)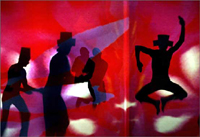 Kats-Chernin: Wild Swans takes flight in Sydney
Millions of television viewers around the world witnessed the magic created byElena Kats-Chernin and choreographer Meryl Tankard in Deep Sea Dreaming, the aerial ballet they created for the opening ceremonies of the Sydney 2000 Olympic Games. Now the two have reunited for Wild Swans, an evening-length ballet based on the beloved fairy tale by Hans Christian Andersen. Co-commissioned by the Australian Ballet and the Sydney Opera House, Wild Swans made its acclaimed debut on April 29, beginning a run of 28 performances in Sydney and Melbourne.
Wild Swans tells the story of Eliza, pious and beautiful (of course), whose wicked stepmother banishes her to the countryside and turns her eleven brothers into wild swans. In order to break the spell, Eliza must knit eleven coats from stinging nettle plants, find the swans, and place the coats over them. She may not speak while doing this, even though the task may take years. In the end, she succeeds - just as she is about to be burned at the stake for witchcraft - but since she doesn't have enough time to finish the last arm of the last coat, when her youngest brother is restored to human form, one of his arms remains a swan's wing.
That last detail reminds Kats-Chernin of the rigors of working to deadline: "So often when I'm finishing a piece, I think: 'Oh, I wish I just had another day to finish off this little thing.'" She needn't have worried - Wild Swans, her most ambitious project to date, is being hailed as a major success. Wrote the Sydney Morning Herald, "Elena Kats-Chernin has been producing music for film, theater and the concert hall at an astonishing rate over the past 10 years....And as the overture unfolds it is clear that Kats-Chernin is in her element writing for dance.
"[The score] is unashamedly indebted to some illustrious predecessors: Prokofieff comes through loud and clear and Tchaikovsky is there too, adding his two rubles' worth. However, this is no 'best of' mixdown: Kats-Chernin is a true original, even if she wears her musical heart on her sleeve. Witness the haunting forest scene, where a clarinet call is joined by a soprano voice, used purely for its tonal qualities, as if just another instrument of the orchestra. Or the exuberant trumpets and trombones with piano for an exciting mix of metals, and the chaotic clang as the wicked stepmother is defeated."
The Bulletin called the score "magnificently evocative," adding that "Tankard's choreography takes us from the sweetest of children's book beginnings into the emotional depths of the story and back out again into the warm light of what is literally a fairytale ending." And The Australian Financial Review described Kats-Chernin's music as "scintillating and instantly likeable," adding, "Wild Swans is likely to have a good life. It will be well loved." Incidentally, Wild Swans may be one of the few evening-length ballets for a major company composed and choreographed by women.
Boosey & Hawkes has just issued Kats-Chernin's piano album Book of Rags, compiling twelve of her charming and unexpectedly moving essays in the genre. Kats-Chernin, an accomplished pianist, writes brief rags as an antidote to the pressure of serious large-scale composition. Surprisingly, these have become some of her most well-known and popular pieces - vessels that carry deep waters, small worlds that embrace bittersweet feelings. Look for Book of Rags at your local music dealer.
> Further information on Work: Wild Swans
photo: Regis Lansac

Boosey & Hawkes Composer News