Ned Rorem Aftermath: in the wake of September 11
(November 2002)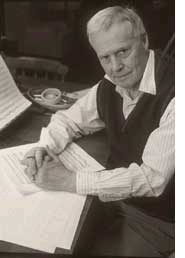 In August 2001, Welz Kauffman, President and CEO of Chicago's Ravinia Festival, commissioned Ned Rorem to write a song cycle inaugurating the festival's new vocal chamber music program. A few weeks later came the September 11 attacks. Rorem – a longtime New Yorker and a Quaker whose pacifist beliefs are vividly expressed in works such as War Scenes – was moved to respond, writing a cycle of ten "songs of war and love" and titling it Aftermath.
In his preface to the work, Rorem writes, "In the wake of the September 11th shock, I asked what a thousand other composers must have asked: What is the point of music now? But it soon grew clear that music was the only point. Indeed, the future will judge us, as it always judges the past, by our art more than by our armies." Aftermath was unveiled at the festival in July, performed by baritone Kevin Greenlaw with Hsing-ay Hsu (piano), Lisa Shihoten (violin), and Amy Sue Barston (cello).
Stated John von Rhein of the Chicago Tribune, "Few musical responses to the events of September 11 are likely to achieve lasting repertory status; Rorem's Aftermath deserves to do so….The music draws on texts by a wide range of poets well-known and obscure, from William Blake and Shakespeare to Richard Eberhardt and Jorge Luis Borges….This is music drawn from the abyss of despair, music roused to anger by the dry and hideous drumbeat of battle, music that scurries in panicky circles of strings and piano as it evokes an aerial barrage. Grief and desolation give way to quiet consolation in the final song, a heartbreakingly beautiful setting of Muriel Rukeyser's 'Then.'"
Wynne Delacoma of the Chicago Sun-Times called Aftermath "a work of laserlike precision, a merciless honing of music and text in songs that cut to the emotional heart of love and loss." Aftermath was also heard in New York at an all-Rorem concert on the composer's 79th birthday, October 23, at the Kosciuzsko Foundation. The evening included tributes to the composer by Judy Collins, John Corigliano, Marian Seldes, John Simon, David Del Tredici, and other guests.
In the face of loss and desolation, Rorem has remained resolutely productive, and is composing at the peak of his powers. In May, at Alice Tully Hall in New York, baritone Kurt Ollmann and pianist Scott Dunn introduced a cycle of ninteteen songs titled Another Sleep, a memorial for the composer's longtime companion James Holmes, who died in 1999. "It's so open and personal that on one level all you can do is embrace it and be moved by it," observed Anne Midgette in The New York Times. "The themes are loss and death and the gray emptiness of surviving alone….This isn't a subject that admits of quiet detachment, and it brought Mr. Rorem to a kind of naked openness."
Events for Rorem's 80th
Rorem's 80th year will be marked by a host of celebratory events. Among these are an all-Rorem birthday concert on February 20 in Montreal, presented as part of the CBC/McGill Concert Series; and the premiere of his Cello Concerto, composed for rising young soloist David Geringas, with the Kansas City Symphony (March 28-30).  In addition, Ned Rorem has just won an ASCAP/Deems Taylor 'Special Recognition Award' for his latest book, A Ned Rorem Reader, published by Yale University Press."
> Further information on Work: Aftermath
Photo: © Robert Benchley

Boosey & Hawkes Composer News