New B&H Publications at the 2019 Frankfurt Music Fair
(March 2019)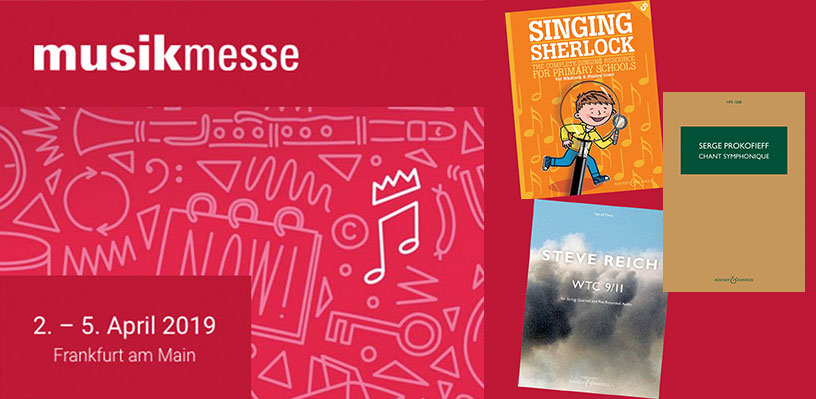 New releases from Boosey & Hawkes were showcased at the 2019 Frankfurt Music Fair in April, encompassing study scores, performance material, and the latest educational and leisure publications.
Music from Boosey & Hawkes presented at the 2019 Frankfurt Musikmesse ranges from prestigious new scores by leading international composers, through latest choral releases, to instrumental albums providing repertoire for aspiring young musicians.
New publications from Boosey & Hawkes are available from all good music shops, including The Shop at Boosey.com.
Education
The 2019 Frankfurt Music Fair saw the launch of Singing Sherlock 5, the latest in the series of high-selling songbooks for primary schools by Shirley Court and Val Whitlock. Across two decades, the Singing Sherlock series has provided the complete singing resource with enjoyable and structured ways to teach music concepts and vocal skills. The earlier four Singing Sherlock books are being revised and repackaged to complement the release of Book 5, and all are published with demo and backing tracks on CD.
The popular easy string books Stepping Stones, Waggon Wheels, Fast Forward and Shooting Stars by Katherine and Hugh Colledge have been republished with fresh engravings and new audio resources. The Boosey & Hawkes Bartók edition series is further expanded with Bartók for Cello and Bartók for Guitar. Bringing together selected highlights from the composer's work including Mikokosmos and For Children, these new titles feature carefully crafted new arrangements and are packaged with audio CDs.
Scores
New scores of works published by Boosey & Hawkes are headed by a special edition of Bartók's classic Sonata for Two Pianos and Percussion released in collaboration with the Paul Sacher Foundation in Basel. The facsimile edition includes Bartók's draft score and a 'whiteprint' of the fair copy, together with essays and a CD with a modern performance and one with Bartók and his wife on the piano parts dating from 1940.
Recent releases in the prestigious HPS catalogue of study scores include the first publication of Prokofieff's Chant Symphonique and a new engraved and corrected edition of his Cello Concerto. Contemporary works joining the series include Magnus Lindberg's Concerto for Orchestra and TEMPUS FUGIT, James MacMillan's St Luke Passion and Steve Reich's Pulse.
New performance scores include Louis Andriessen's Facing Death in versions for string quartet and saxophone quartet, Anna Clyne's Rest These Hands, Steve Reich's Quartet and WTC 9/11 and Mark-Anthony Turnage's Contusion. Concerto reductions include James MacMillan's Trombone Concerto and Percussion Concerto No.2.
Choral & Vocal
Choral highlights include James MacMillan's Stabat Mater and O Virgo Prudentissima, both written for and recorded by The Sixteen. First publications of recent composer signing Kim André Arnesen include his Holy Spirit Mass, Flight Song and Ubi caritas et amor. Music published recently in the Contemporary Choral Series include works by James MacMillan, Mark Simpson and Will Todd and in the CME series by Shawn Kirchner and Jim Papoulis.
Vocal highlights include the recent Boosey & Hawkes Opera Anthology with a volume for each voice type, including extracts from operas by Adams, Britten, Floyd, Strauss and many more. The Offenbach bicentenary in 2019 is celebrated by four volumes of Romantic Offenbach, containing vocal arias for soprano, mezzo, tenor and baritone/bass.
Piano & Instrumental
New piano albums include Karl Jenkins: Piano, linked with the recently released recording on the Decca Classics label in celebration of the composer's 75th birthday year. First publications include Harrison Birtwistle's Four Piano Pieces, Variations and Gigue Machine, Alberto Ginastera's Danzas Argentinas, and Kurt Schwertsik's Albumblätter. Instrumental publications range from three new volumes of Offenbach's music for cello and piano to Birtwistle's Beyond the White Hand for guitar.

Boosey & Hawkes Composer News