New Contemporary Choral Repertoire for Christmas
(September 2022)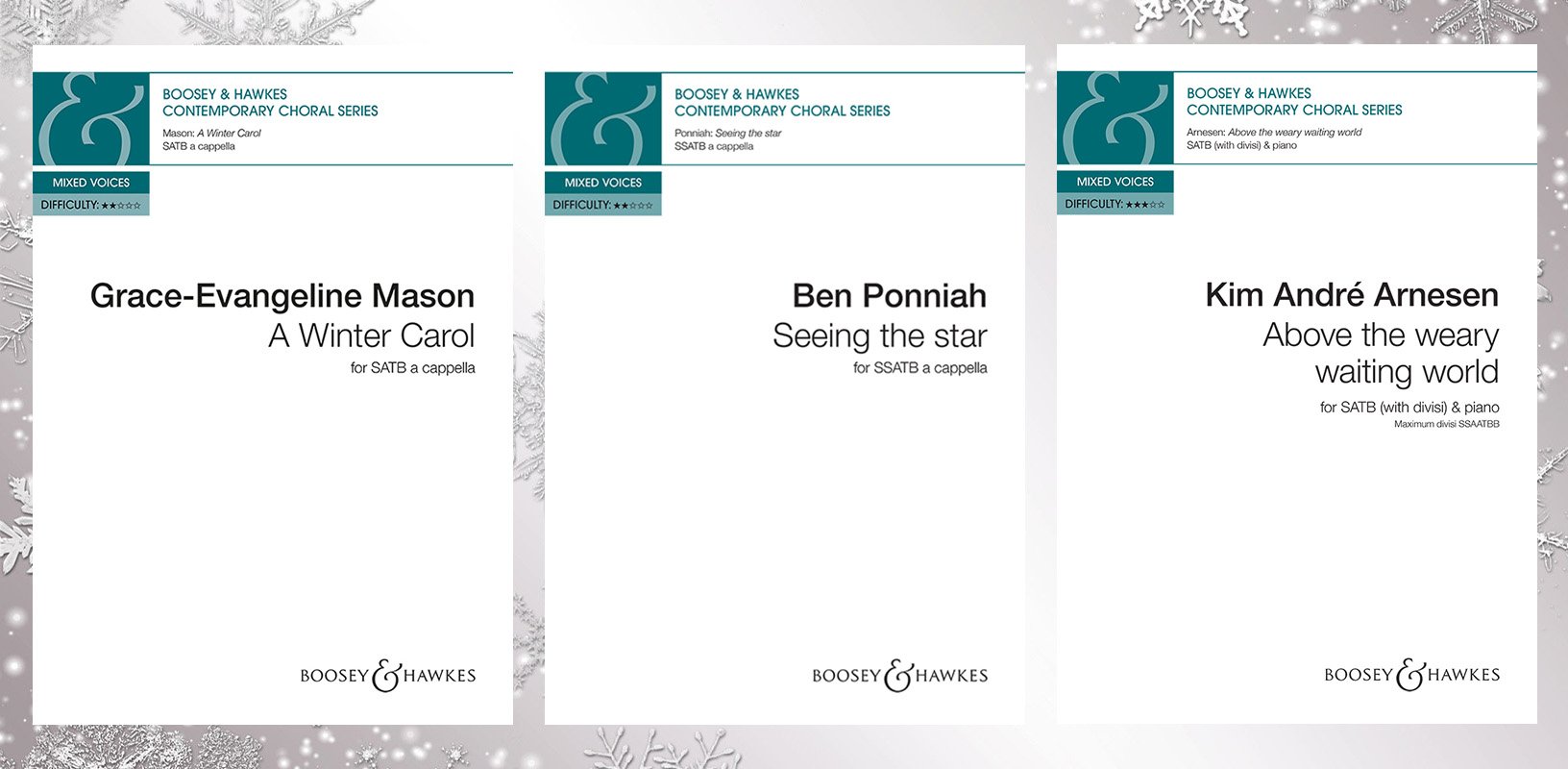 New festive repertoire has been published in the Boosey & Hawkes Contemporary Choral series from Kim André Arnesen, Grace-Evangeline Mason and Ben Ponniah.
About each work
Grace-Evangeline Mason: A Winter Carol (SATB a cappella)
Each year the BBC Music Magazine commissions a brand-new Christmas Carol for their readers and, when Grace-Evangeline Mason was invited to compose the 2021 carol, she decided to write and set her own poem titled A Winter Carol. The words, which depict snowy scenery and starry allusions to heaven and earth, also include a modern twist as the composer dreams of walking home at Christmas time under the warm glow of the street lamps all covered in a silver frost.
Ben Ponniah: Seeing the star (SSATB a cappella)
Seeing the star is the composer's way of saying thank you to St Mary-le-Tower for providing such an inspiring choral education. In this piece, the wonderment of the Wise Men is captured, as they look up at the star on their journey to the baby Jesus. The soprano part (which includes minimal divisi) is initially characterised by increasing intervals, to reflect the upward gaze of the Wise Men. Tone clusters are used to create a shimmering starlight effect. A short, effective and approachable new carol for Epiphany or Christmas.
Kim André Arnesen: Above the weary waiting world (SATB with divisi & piano)
Written for the University of South Carolina, this new carol from Norwegian composer Kim André Arnesen sets a beautiful poem by Bliss William Carman (1861–1929). The poem describes a wintery world, with singing bells, a dancing star and expectant hearts, awaiting the arrival of the Christ child. The mystery, anticipation and joy is captured in Arnesen's music; its striking, soaring melodies and warming harmonies underpinned by flowing piano paint a sublime picture, sure to be a highlight of your Christmas concert.
View all choral publications here

Boosey & Hawkes Composer News