Pioneering violin pedagogue Sheila Nelson dies, aged 84
(November 2020)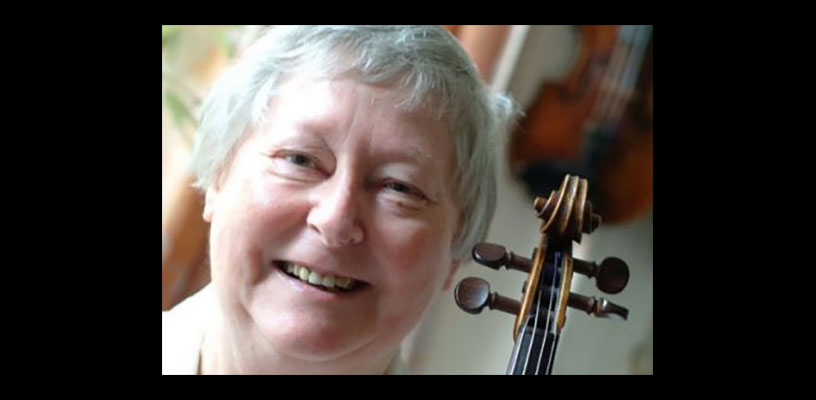 We are sad to share the news of the death of the outstanding violin pedagogue Sheila Nelson, whose award-winning publications with Boosey & Hawkes include The Essential String Method, Tetratunes and Flip-A-Rhythm.
Sheila Nelson, one of the most influential string teachers of the past half century, has died aged 84. Her pioneering approach to group string teaching in schools, influenced by Suzuki and the American Paul Rolland, flourished through the Tower Hamlets Project in London's East End in the late 1970s and 1980s. From this Project grew a string training programme for trainee teachers alongside experienced teachers in the classroom, as seen in a six-part documentary series called 'Beginners Please' in 1987, and an enormous range of published music resources. Sheila Nelson's influence on generations of teachers and pupils continues through to today.
Born in 1936, Sheila Nelson studied violin at the Royal College of Music and was awarded a BMus from London University. Further studies took her to Copenhagen Conservatory and Birmingham University, leading to the start of her professional career as a violinist. She played with the Menuhin Festival Orchestra, the English Chamber Orchestra and the Royal Philharmonic Orchestra, while developing a growing interest in teaching. Awarded a Churchill Fellowship in 1976, she travelled to the USA to work aside the pedagogue Paul Rolland in North Carolina and Urbana, Illinois, where she witnessed the teaching of string instruments to young children in groups and the provision of tailored teaching and performance materials.
This innovative approach to string teaching was applied upon her return to the UK when she was invited by the Inner London Education Authority to develop string teaching in schools in the deprived borough of Tower Hamlets. This acted as a foil to her teaching at her studio in Highgate, with weekly group lessons and chamber music at weekends with violin pupils joined by local young cellists. The following decades saw the creation of a range of publications providing a complete pedagogical programme for developing string players. These made 'Sheila M. Nelson' a familiar name to teachers and pupils around the world and fostered a network of players and teachers inspired by her method.
Boosey & Hawkes collaborated closely with Sheila Nelson over decades, publishing Tetratunes, Right from the Start and Technitunes, leading up to the all-encompassing Essential String Method for all four string instruments and Octotunes, expanding further her resources for flexible string ensembles. With over 100 publications in her catalogue, Sheila Nelson received numerous educational awards and her books remain international best-sellers to this day.
The European String Teachers Association (ESTA) paid tribute: "Sheila M. Nelson passed away peacefully after being cared for by family for 7 years. She will be remembered with love for her immeasurable contribution to string teaching; by her many students and all those who joined them to play chamber music whether at her home or as part of the Tower Hamlets String Teaching Project; and for her boundless energy, enthusiasm and generosity for passing her wisdom to teachers plus the enormous body of repertoire she has left us… Her name will live on in the Sheila Nelson Stringwise Bursary Fund.
"Arguably Sheila has touched the lives of more young string players than anyone else in the UK because so many teachers have been influenced by her through the numerous training programmes she has been involved in the world over. Through the Tower Hamlets Project she developed teaching techniques that even now are being adapted and repackaged by teachers involved in the Wider Opportunities scheme. ESTA thanks Sheila for all her invaluable skills and her humbleness and willingness to share them with the string teaching community."
Ariana Todes, former Editor of The Strad, learnt violin with Sheila Nelson from the age of 5 to 11 and describes the experience on her blog Elbow Music: "I am one of the lucky ones who had Sheila as my first teacher… In the early years, it was mostly about fun - later on, there was serious chamber music crammed into every room of her house, and there were always performances, invariably ending with ice cream all round. It's over 40 years since I enjoyed these fun and games, and yet hardly a day goes by that I don't feel grateful. I still play chamber music with the friends I made there when I was five, as well as many other amateur friends I've made along the way.
"Sheila's great achievement was to make sure that music (classical music, at that) was always fun, joyful, physical, sociable, satisfying. It might not sound surprising, but it is not a given. Her way of teaching meant that playing the violin was not only something that little kids wanted to do – they didn't want to stop doing it… She had a truly democratic vision of music for being for everyone. That might seem self-evident to most of us, but it's a legacy for which we have to fight harder than ever."
> View the range of Sheila Nelson's publications
> View the Essential String Method

Boosey & Hawkes Composer News