Rao's Choral Music Experience celebrates 20th anniversary
(May 2006)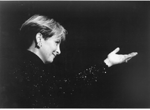 Rao's Choral Music Experience celebrates 20th anniversary
This year marks the 20th anniversary of Boosey & Hawkes' Choral Music Experience publications, a distinctive and culturally diverse choral music series for both professional performance and music education curricula developed by award-winning conductor and choral educator Doreen Rao.


Choral Music Experience was originally developed by Doreen Rao as a performance approach to the music education of children, encompassing choral classics, contemporary repertoire, and world music for community choirs and choral classrooms.  This internationally-recognized program links the standards of professional performance with the goals of music education.  From young treble voice choirs in elementary and community choruses to a wide-range of high school, university and community choirs dedicated to the performance of distinguished and emerging composers, Rao's Choral Music Experience music and methods have impacted the musicianship and performance standards of developing choirs throughout the United States, Canada, Great Britain and Europe.


CME grew out of Doreen Rao's passion and determination to bring the choral music of distinguished living composers to mainstream music education, and to revitalize choral singing in schools and communities throughout the United States. B&H composers in the Choral Music Experience series have inspired a whole new generation of conductors and dedicated choral teachers, not to mention future audiences for new music.  Thanks to Rao's innovative approach, and the exciting new repertoire she has brought into being from composers like Imant Raminsh, Stephen Hatfield, David Brunner, John Burge, Daniel Brewbaker and Lee Kesselman, the singing standards in music education may never be the same.  Visit www.boosey.com/rao for more information.
> Further information on series: Choral Music Experience

Boosey & Hawkes Composer News