Rorem at 80: Cello Concerto travels to Europe
(May 2003)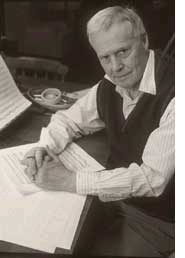 Ned Rorem is 80 on 23 October, and celebratory events this year include the premieres of two new concertos for cello and flute. His Cello Concerto, written for David Geringas, was premiered by the Kansas City Orchestra under Michael Stern in March. The work rapidly crosses the Atlantic for its European premiere in The Hague on 6 June, by its co-commissioner the Residentie Orchestra conducted by Anne Manson, and travels to Munich on 23 October for its first German performance, both with Geringas as soloist.



The new concerto, in characteristic Rorem fashion, favours a multi-movement suite format rather than a traditional three-movement structure, with each of the eight sections adopting a descriptive title. Thus, the opening movement, Curtain Raise, is followed by the musically palindromic There and Back. Competitive Chaos pits the solo cello against solo violin. The fifth movement, A Single Tone, A Dozen Implications, has the soloist sustaining a "single expressionless 'E' while the orchestra imposes, separately, a sequence of twelve colours in varied intensities." The concerto closes with a haunting eighth movement, Adrift: "Against a weaving ostinato for harp and strings, the cello sings a long long strain which gradually fades to nothing."

"The Concerto is loaded with passages of lovely music... It is a kaleidoscopic piece, with lush colours and big, arching tunes that dwell somewhere between Shostakovich's tragic mode and Copland's cheerfulness."
Kansas City Star

Rorem's new Flute Concerto, written for Jeffrey Khaner, is premiered by the Philadelphia Orchestra on 4 December, conducted by Roberto Abbado. Philadelphia also plays host to a Rorem 80th feature presented by the Curtis Institute, with a pair of concerts devoted to his chamber music and songs at Curtis on 2 November and Miss Julie staged at the Kimmel Centre on 7 November. For the week of his birthday Rorem is Composer of the Week on BBC Radio 3 (20-24 October).
> Further information on Work: Cello Concerto
Photo: © Robert Benchley

Boosey & Hawkes Composer News