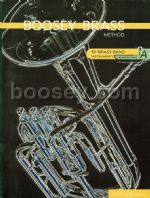 (Morgan) - Boosey Brass Method: Eb Brass Band Instruments (Repertoire Book A) (E flat Instrument & Piano)
Instrumentation: E flat Instrument, Piano
ISMN 9790060114922
ISBN 9780851624198
Publisher Boosey & Hawkes (London)
Availability: Stock Title
Level of Difficulty: Easy
Easy pieces for beginners including music from different styles, cultures and times - classical, pop, jazz and world music. Can be used with stages 1-4 of the Boosey E flat Brass Band Instruments Method book 1, or as a repertoire book by any beginner player.
Contents

A Wistful Waltz
Another Step
At the Ball
Blue Jaz
Blues
Chanson de Nuit
Che Che Koolay
Clubbing
Evening Calm
Fanfare and March
Finger-twister
Good Time Rag
Ice Lolly
La Rambla
Lotus Flower
Martial Arts
Melody for Maea
Mind the Gap
Movie Spooks
My Coffin Shall Be Black
Nearly Four
Night Walk
Panda Stomp
Procession
Raga Malakosh
Really Can't Stop
Rondo
Sad Moments
Slip Up
Slur Crazy
Sushi
Sword Party
Tin Tin Tini Mini Hanim
Tipping It Down
Tractor
Waikareoara
Waltz for Piazzolla
---
There are currently no reviews for this product.
Tell us what you think