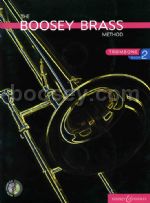 (Morgan) - Boosey Brass Method: Trombone (Book 2) (Trombone, CD)
Instrumentation: Trombone, CD
ISMN 9790060113147
ISBN 0851623409
Publisher Boosey & Hawkes (London)
Availability: Stock Title
Level of Difficulty: Easy
A major new resource for individual and group woodwind and brass teaching. The Boosey Woodwind and Brass Method provides everything you need for teaching music through the instrument. Its unique approach develops general musical skills through a programme of quality solo and ensemble music, activities and audio CD. And because the method is based on a clear curriculum it provides an easy to use system for teaching – plus all the flexible resources you need for every situation, whether individual, group or mixed instrument teaching.

Every book in THE BOOSEY WOODWIND AND BRASS METHOD contains:
A wide variety of solo and ensemble music
Flexible ensemble music - suitable for any number of players in mixed instrument groups
An audio CD with performances, backing tracks and listening activities
Feeling the rhythm activities
Breathing exercises
Musical activities - listen and respond, improvise and compose
Contents

A Hero's Farewell
A Sad Tale
Alligator Swamp
Anchors Aweigh
Autumn
Bird of Paradise
Bittersweet
Bourree
Calypso Facto
Chromatic Cheesecake
Clean Air
Coconut Rag
Colonel Bogey
Cover Up
Crayfish
Dance of Displeasure
Dantz
David of the White Rock
Deck the Halls
Don't Wannabe
English Jig
Estonian Round
Feeling Sunny
Fine Fun for Fanfare Fans
Galliard
Ghana Alleluia
Golden Sand
Good Night
In Paris
Italian Connection
Jewish Wedding Song
Kenya Melody
Kind of Lovely
Kookaburra
La la la koora
Lannigan's Ball
Lazy Afternoon
Les trois rois
Long Shadows
Lullaby of Birdland
March
Marcia di Camelo
Michael, Row the Boat Ashore
Miller's Crossing
Minuet
My Cavalier
Nans' Ingongyanma
Nkosi Sikelel' iAfrika
Nuage
Off the Rails
On the Waves of Lake Balaton
Pavan
Pavanne Battaille
Promenade
Regretfully Yours
Rondo - Pour Quoy
St James' Infirmary
The Arethusa
The British Grenadiers
The Cat
The Londonderry Air
The Parson's Farewell
The Peacock Followed the Hen
The Steam Boat
The Windmills of your Mind
Tiger Leap
Walking the Line
Winder wie ist
Yellow Bird
---
Press Reviews
"During my long career as a brass teacher in schools I was continually searching for the perfect tutor book or method for teaching beginner brass players. Now I have found the book that I was looking for! ... It is a complete course for individual and group teaching and it incorporates all that I believe is necessary to start and continue teaching beginner brass players ... ... In the high tech world of today children expect instant results at the press of a button - this method gives it to them! ….. all in all it is an excellent method and Boosey & Hawkes are to be congratulated"
David Read, Brass Herald Magazine, Autumn 2003
Tell us what you think