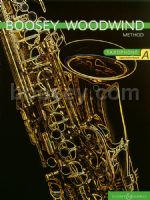 (Morgan) - Boosey Woodwind Method: Alto Saxophone (Repertoire Book A) (Alto Saxophone, Piano)
Instrumentation: Alto Saxophone, Piano
ISMN 9790060114779
ISBN 9780851624006
Publisher Boosey & Hawkes (London)
Availability: Stock Title
Level of Difficulty: Easy
Easy pieces for beginners including music from different styles, cultures and times - classical, pop, jazz and world music. Can be used with stages 1-4 of the Boosey Saxophone Method book 1, or as a repertoire book by any beginner player.
Every book in THE BOOSEY WOODWIND AND BRASS METHOD contains:
A wide variety of solo and ensemble music
Flexible ensemble music - suitable for any number of players in mixed instrument groups
An audio CD with performances, backing tracks and listening activities
Feeling the rhythm activities
Breathing exercises
Musical activities - listen and respond, improvise and compose
Contents

A Wistful Waltz
Another Step
Bicycle Ride
Blue Jaz
Blues
Chanson de Nuit
Che Che Koolay
Clubbing
End of the Day
Evening Calm
Fanfare and March
Forest Walk
Good Time Rag
Hey Ho, Nobody Home
Ice Lolly
Iroquois Lullaby
Lazy Days
Martial Arts
Melody for Maea
Misty Morning
Mountain Stream
Movie Spooks
My Coffin Shall Be Black
Night Walk
On the Wing
Panda Stomp
Raga Malakosh
Rondo
Sad Moments
Sakura
Shortcake Walk
Sleep My Baby
Spycatchers
Summer
Sunset
Tipping It Down
Waikaremoara
Worksong
---
There are currently no reviews for this product.
Tell us what you think