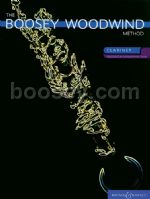 (Morgan) - Boosey Woodwind Method: Clarinet (Keyboard Accompaniments Books 1 & 2) (Piano Accompaniment)
Instrumentation: Piano Accompaniment
ISMN 9790060113000
ISBN 9780851623818
Publisher Boosey & Hawkes (London)
Availability: Stock Title
A major new resource for individual and group woodwind and brass teaching. The Boosey Woodwind and Brass Method provides everything you need for teaching music through the instrument. Its unique approach develops general musical skills through a programme of quality solo and ensemble music, activities and audio CD. And because the method is based on a clear curriculum it provides an easy to use system for teaching – plus all the flexible resources you need for every situation, whether individual, group or mixed instrument teaching.

This book contains:
- easy keyboard accompaniments for repertoire from The Boosey Clarinet Method Books 1 & 2
- pieces from different styles, cultures and times including classical, pop, jazz, world music and specially written pieces
Contents

A Groovy Kind of Love (Wine & Sager)
A Sad Tale (Norton)
Alla danza tedesca (Beethoven)
Alligator Swamp (Marks)
Another Day is Over (Marks)
Another Way
At Daybreak (Marks)
Athol Highlander's Jig
Au clair de la lune
Aura Lee
Autumn (Vivaldi)
Basilica (Barratt)
Beach Hut (Norton)
Beguine Again (Marks)
Bird Food (Norton)
Bird of Paradise (Barratt)
Bittersweet (Marks)
Blue 4 U (Marks)
Blue Tones for Barbara (York)
Bourree (Handel)
Cactus Tree
Calypso Facto (Norton)
Cantilena (Jenkins)
Catch Your Breath (York)
Centre Stage (Barratt)
Charming (Norton)
Chromatic Cheesecake (Marks)
Clean Air (Marks)
Club Soda (Norton)
Colonel Bogey (Alford)
Cool Time (Morgan)
Cover Up (Norton)
Crayfish (Norton)
Dance of Displeasure
Dance with Trumpets (York)
David of the White Rock
Dodi li (Chen)
Dona, Dona
Don't Wannabe (Norton)
Dreamtime (York)
Early One Morning
Elegie (Barratt)
Eriskay Love Lilt
Estonian Round
E-zy to Play
Fanfare Time (Norton)
Farewell to Stromness (Maxwell Davies)
Feeling Sunny (Norton)
Feeling Sunny (Norton)
Fine Fun for Fanfare Fans (Marks)
Flying Away (Marks)
Fortune Cookies (Barratt)
Galliard
Ghana Allelulia
Golden Sand (Norton)
Good King Wenceslas
Happy Daze (Marks)
Helas Madame (arr. Barratt)
Here On My Own
Hero's Farewell
High Hopes
High Tide (Barratt)
Hine ma tov (Haplan)
I Love my Love
Icelandic Lullaby
I'll Eat my Hat (Marks)
I'll Set my Love to Music (Oliviero)
Image (York & Marks)
Imaginary Dancer
In Paris (Norton)
In the Street
Italian Connection (Barratt)
Jesu, Joy of Man's Desiring (Bach)
Jewish Wedding Song
Jingle Bells (Pierpont)
Kalinka
Kenya Melody (trans. Hugh)
Kind of Lovely (Marks)
Knights Templar March (Barratt)
Kookaburra
La la la koora (Jenkins)
Land of the Silver Birch
Lannigan's Ball
Lazy Afternoon (Street)
Les trois rois
Level Headed (Norton)
L'homme arme
Lightly Row
Little March (Berr)
Londonderry Air
Long Shadows (Marks)
Lopsided (Marks)
Lullaby for Lucy (Maxwell Davies)
Lullaby of Birdland (Weiss & Shearing)
Marcia di Camelo (Stadler)
Mattachins
Mayim! Mayim!
Michael, Row the Boat Ashore
Miles to Go (Norton)
Miller's Crossing (Norton)
Minuet (Bach)
Minuet (Purcell)
My Cavalier
Nkosi Sikelel' iAfrika (Sontonga)
Now the Day is Over
Off the Rails (Norton)
Old Joe Clark
On the Spot
On the Waves of Lake Balaton
One Two Watch
Over and Over Again
Over the Moon (Marks)
Pavan (Gervaise)
Penguins on Toast
Promenade (Harris)
Promenade (Mussorgsky)
Quirk (Barratt)
Rags 'n' Bones (York)
Rambling Man (Marks)
Regretfully Yours (Norton)
Russian Dance (arr. Barratt)
Scarborough Fair
Shore to Sea
Sit up and Beg! (Barratt)
Smooth Moves (Morgan)
Spooky Route (Barratt)
Spring (Vivaldi)
Step by Step (Marks)
Summer Song
Swing Low, Sweet Chariot
Tall Tale, Big Hat (Norton)
The Cat (Prokofieff)
The Clarinet Rap (Marks)
The College Hornpipe
The Entertainer (Joplin)
The Girl I Left Behind Me
The Humming Round (O'Hanrahan)
The Irish Washerwoman
The Parson's Farewell
The Peacock Followed the Hen
The Steam Boat
The Windmills of your Mind (Legrand, Bergman)
Theme from Sonata no. 12 (Mozart)
This Way, That Way (Morgan)
Tied up Tight (Marks)
Tiger Leap (Marks)
Time and Again
Time and Again (Morgan)
Time Out, Time Off (Marks)
Together
Tragic Consequences (Norton)
Troika (Prokofieff)
Two-part Invention (Barratt)
Upstairs, Downstairs (Marks)
Viva la musica (Praetorius)
Vocalise all Valse (York)
Walking the Line (Marks)
Wave Machine (Marks)
Well, Did you Ever? (Porter)
When the Saints Go Marching In
While Shepherds Watched
Woogie Boogie (Marks)
Yankee Doodle
Yellow Bird
You and Me (Morgan)
Your Shout!
---
There are currently no reviews for this product.
Tell us what you think